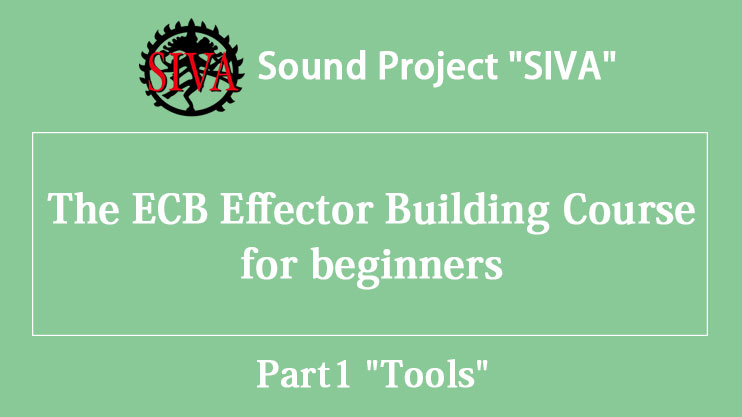 If you want to build your effectors from scratch, You may have a lot of questions and wants to know the tips of them.
We are pleased to announce to launch The ECB Effector Building Course for beginners.The instructor is Hiroshi Ozawa, Sound Project "SIVA"'s founder. He is also JPBA's initiator.
This web course would like to introduce not only "How to build it" but also Hiroshi's recommended tools, parts, etc…
We are providing to the contents that useful for not only effector enthusiasts but also who want to be a professional effect builder.
▼Instructor



Hiroshi Ozawa.
Sound Project "SIVA"'s founder, effect designer and builder. "Siva" is the japan's most famous "ITA effector" brand. "ITA" means "painful" literally, but it is an "OTAKU" slang in Japan, not a negative meaning.
Almost pedal cover designs are seeking to be functional or cool. However, Siva is going a different way. Siva believes good effector needs a good cover design.He says "If it's a cute girl? Your motivation will be higher."
» Sound Project "SIVA"
Part1 "Tools"
Part2 "Parts and components-1"
Part3 "Parts and components-2"
Part4 "Case (chassis) processing"
Part5 "Painting or coating and finishing"
Part6 "Building an electric circuit board"
Part7 "Assembly"
Part8 "Work example"
Part9 "PCB electric board processing(KiCAD)"
※Subject may change without notice.
Part1"Tools"
I would like to introduce tools to focus on Using by beginners. PLEASE BE CAREFUL HANDLING
YOUR TOOLS, ESPECIALLY RED SENTENCES. IT MAY CAUSES OF WOUND, FIRE OR DISASTERS.
Solder iron and Solder iron holder.
Solder iron is the essential tool for building an effect pedals, Fixing electric parts and circuit board with melting solder by heat.
You can choose many kinds of solder irons. Tools manufacture provides various watts. However, Please be careful when you are using high watts solder iron. It may cause damage to the electric
compornents. Choose appropriate watts solder iron. I would like to recommend 20-30 watts solder iron.
The Solder iron tip is very hot while you turn on it. PLEASE BE CAREFUL HANDLING SOLDER IRON. IT MAY CAUSE INJURY.
Also, you can choose temp adjust solder iron. But you don't need such a high ended one for initial. please do not forget to prepare a Solder iron holder. DO NOT LEAVE YOUR SOLDER IRON
WITHOUT HOLDER. IT MAY CAUSE OF FIRE OR ANOTHER SERIOUS ACCIDENT.
▼MY Recommendation.
Solder
I do not recommend to lead-free solder because it is so sticky if you using solder iron. Use lead or grease included ones. I recommend to KESTER44 solder for musical instruments or audio equipment. Melting temp, affordable price, it is a good at your work.
Some guys have worried about a difference of sound due to solder but it is not a big deal. You can feel "changing the sound" but it is not "much better". You should change the resistance on your components.
▼MY Recommendation.
Pliers, Radio Pliers
I would like to recommend to 2 kinds of pliers. Use your pliers for each part.
▼MY Recommendation.
Diagonal cutting pliers
We, Japanese people call it "Nipper" or "Cutting nipper" I recommend that with spring helper between the handles included.
▼MY Recommendation.
Wire stripper
You can peal wire coating film by ordinary nippers but I highly recommend using this tool. You can save your time.
▼MY Recommendation.
Helping Hands, (Fixere, Working helper).
I insist you need "Third hand" when you are building pedals…
▼MY Recommendation.
Tester
You don't need expensive ones and high specs in the beginning. Minimum specs are measuring resistance, checking the electric current and Voltage.
▼MY Recommendation.
Caliper and Ruler
Do you need descriptions?
▼MY Recommendation.
Center punch
Tools for marking the place of the drilling a hole. Effector chassis is usually Aluminum diecast. You can not drill a hole without marking, because drill bit is slipping away from your designed place. If you need a precision working, use center punch with hammer. If you want to drill a hole a lot, Automatic punch is better.
▼MY Recommendation.
▼MY Recommendation.
Drill, Drill bit
You can drill a hole on your chassis by a hand drill, but it is painful things. It takes a long time and
you will be tired. I recommend buying a powered drill. Not necessary to buy expensive equipment like bench drilling machines first.
As about drill bit, DO NOT USE WOOD WORKING DRILL BIT FOR. USE IRON WORKS DRILL BIT ONLY.
As about drill bit, DO NOT USE WOODWORKING DRILL BIT FOR. USE IRON WORKS DRILL BIT ONLY. Bit sizes 1.5mm diameter are for locating your designed holes. You also need a 2,3,4mm diameter drill bit for your work
【CAUTION】AVOID SERIOUS INJURY.
1.YOUR WORK SPACE SHOULD BE "WELL-LIT" AREA.
2.WEAR APPROPRIATE CLOTHING.
3.DO NOT WEAR GLOVES WHILE YOU ARE USING A POWERED DRILL.
4.LONG HAIR SHOULD ALWAYS BE TIED AND FIXED.
▼MY Recommendation.
Goggles
You should wear a goggle during your work to avoid eyes injury.
▼MY Recommendation.
Taper Reamer.
Hole expander. If you don't have your desired size drill bit, or want to adjust the shape of the hole, use this tool.
▼MY Recommendation.
Wrenchs
"Must-have" items. Only way to tighten the nut. You also need hex wrench.
▼MY Recommendation.
Screw driver.
This is also "Must-have" items. You can not tighten screws by your finger or nail.
▼MY Recommendation.
Glue gun and hot Glue.
Tools for fixing LED light or circuit board on your dhassis. You can also use them for insulation.
▼MY Recommendation.
Masking tape
Use for electric Insulation or temporary location of your component inside chassis.
▼MY Recommendation.
【DISCLAIMER】
We are not responsible for any accident, injury or damage during your work. This article is not a guarantee of your safety.